Whether it's a book cover for Kindle or an added paperback design you're looking for, getting a pro just offers you that peace of mind regarding book cover design.
Many new authors may still be learning the ropes on how to get a good book cover design, where to search for quality designers, and how a great cover can boost their book sales.
Beginner or veteran, there's some crucial information all authors need to know about how to get a book cover designed and how to get a professional cover designer to read their minds and feel their vibes.
From an author's perspective, it's sometimes easy to focus on only your writing as the main product, but a fantastic book cover can place your book in a league of its own. Professional book cover designers know this, and they do their homework. Your success is their success.
All it takes is a little collaboration and knowing what information to provide your designer before and during the design process.
Book Cover Design: How the Pros Do It
The perks of having a pro handle your book cover design mean there's no searching for free design software and using templates that you'll most likely encounter on other book covers as soon as you start scrolling down your book's genre page on Amazon.
If you want your cover to look different and unique, DIY is not going to do the trick for you. Even if you want your book to resemble book covers from a particular market or genre, there's a fine line between your book cover featuring subtle graphic reminders versus it looking like an exact copy.
Making those small changes that link your book cover to that of a bestseller is something a book cover designer is specifically good at.
Here's the process your pro book cover designer follows to get you your original dream cover.
The Steps of a Book Cover Design Process
A pro designer will follow some main steps during the design process, but they will also restructure their approach to fit the client, objectives, and the genre or market of the book cover they're designing.
The first step includes studying all the information provided by the client, usually called a client brief, which includes all your ideas, recommendations about colors and fonts, and other visuals you would like the designer to use for an initial idea.
We'll show you how you can provide a killer client brief in just a moment.
While looking at your info, the designer may communicate with you to make sure you are both on the same page and they have the most accurate idea of what you want.
The second step involves the designer conducting their own research based on your research and information. For example, if you tell them you want a book cover that will attract a specific target audience, the designer will look at the most popular examples and analyze them to get the best vision for your cover.
The great thing about using a professional designer is that they'll know exactly what to look for in cover designs of competitor publications.
Now comes the brainstorming, sketching, and actual designing process. A good cover designer will come up with more than one initial example and show them to you for more specific feedback and to make sure they're on the right path.
After you've steered the designer in the right direction, they will bring your idea to life using the information you provided, and if there are any niggles at that point, communication is the best way to get them ironed out.
Book cover designers are trained to understand what the reader wants to see, how to read different markets and genres within publishing, and they have the training to use a variety of design software to your utmost advantage.
That being said, they cannot accomplish this without your vision. Here's what you can do to turn your designer into a mind reader.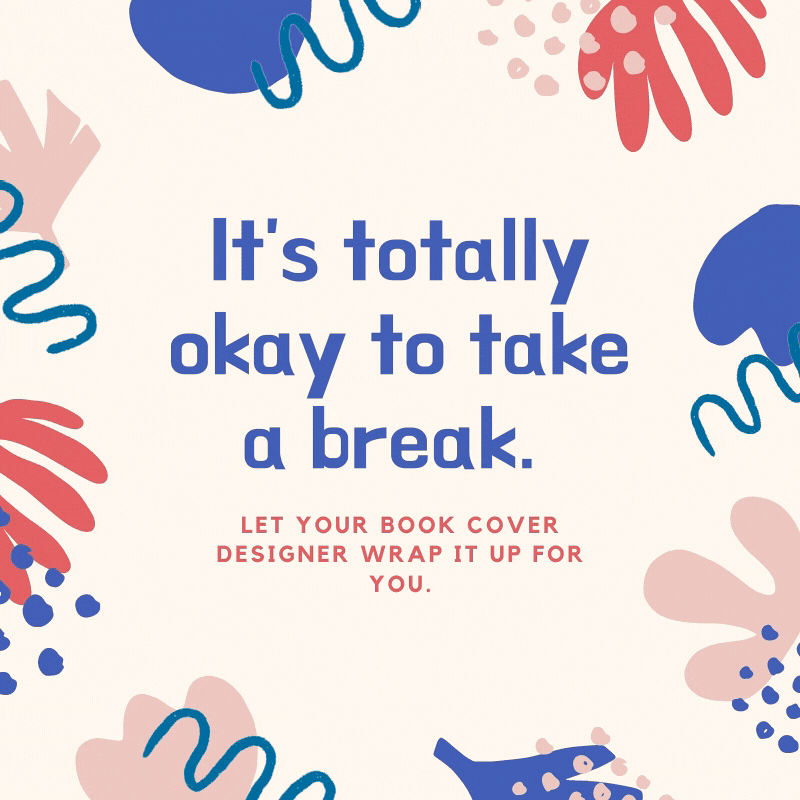 Help Your Cover Designer by Following These Prep-Steps
Designers know what should be on a book cover. If you want them to design the perfect one for you, then there is some basic information you need to know about book covers so you can provide them with the best tools to stimulate their creativity.
Because designers are busy professionals, they may not have time to read your whole book to develop a mental picture for a cover design. This is one of the reasons why a meticulous and detailed client brief works so well.
You can put all of this information in your client brief, and believe me, if you provide a detailed and thoughtful client brief, your designer's going to think Christmas has come early this year! Using a book cover design template as a client brief can help your designer see and understand your ideas and inspiration in a structured format.
Client Brief Must-Haves
There are some things that are an absolute must on a book cover. A great example of this is the book's title. That's quite important if you ask me. Let's look at other important and beneficial information you can add:
You can start by providing the book's title, a subtitle if there is one, and the author's name.
Next, if you want a paperback design, you can also include information for the back cover and the book's spine.
Also, provide the trim size information of your book. The trim size refers to the height and width of the book's pages. You can also add information about the book's interior type.
Next, do you want your pages to be in a specific color? Also, how many pages are there in total?
Each of these points contains crucial information for your book designer because they are the fundamental components of your book cover. However, there is more important information you need to provide in a good client brief:
Fiction or nonfiction?
Providing the genre of your book will help the designer a lot to come up with the main cover idea and identify the target audience of the book, so that will be very helpful.
Are there any styles you like or dislike intensely? For example, you may detest a damask motif even though it can fit thematically on your book cover.
This means your designer needs to know your cover must be damask-free from the start. The same goes for fonts, pictures, and art. Of course, if you have a specific font in mind, you can tell the designer from the get-go.
Can you provide your designer with any other examples of covers that you like and provide some details about how and why you like these covers? For example, you may provide your designer with a specific cover and tell them that you love the font used on that cover.
Do you want your book cover to have a picture on it? Alternatively, do you want the image to be the main feature on the cover, or do you want the title to be seen immediately?
If you want an image on your cover, what kind of image? Do you like illustrations, icons, photorealism or cartoons? Or do you want the designer to look into this part for you first?
Should the designer avoid specific colors, or do you want your cover to have a specific dominant color?
Finally, if you already have images you want to use for your cover, you can attach them to your client brief. However, if the image is not royalty-free, just ensure you have the rights to use it and that the picture is of a high-resolution quality for an eye-catching cover experience.
Effective Communication for the Ultimate Book Cover Design
After you've provided the best client brief you possibly can, you'll still be in contact with the designer throughout the whole design process. To make the most of this time, here are some smart communication tips for the best results:
Give honest feedback, tactfully.
Be flexible and remain positive.
Make sure you and your designer are always on the same page.
Respect your book cover designer and their profession.
Trust your cover designer!
Make sure your designer understands your expectations.
Communicate effectively by following up, giving prompt feedback, and being friendly and sincere.
The Bottom Line
Our friends, the book cover designers, are unique in every way. They are one part social scientist and one part psychologist with a degree in marketing and a natural flair for art and design. And, they are even good listeners!
These are the individuals who are going to give your book a killer first impression. All you have to do is provide them with a quick peek into your mind.
Two things are essential to know when working with a book cover designer. The first is which information to provide them with—the more, the better, as long as there are no confusing or contradictory elements.
The second thing to keep in mind is how to communicate with your designer. Be friendly, be flexible. They also want your book (and their cover) to be a bestseller. Best of all, if you're looking for a fantastic cover designer, there's no need to look any further than The Urban Writer's book cover design packages.